Secure Online Payments
DigiWallet has been a reliable Payment Service Provider for over 22 years and has completed over 250 million payment transactions for our customers. If you want to receive payments and be sure of your money we have proved to a large amount of parties to be the best choice.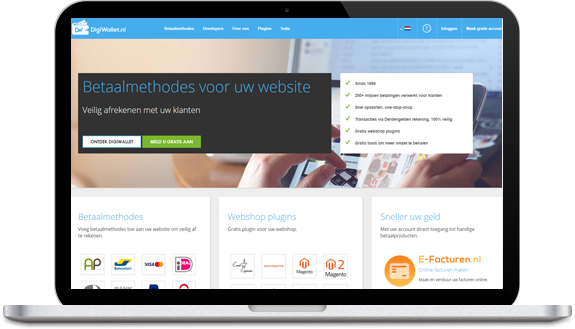 Our Policy: 'Your money is your money'
DigiWallet will never use your money to invest etc. The banking crisis demonstrated that using money in this way is full of risk, that we simply do not take with your money.

DigiWallet will also never use your money to payout other customers faster. It is common at other PSP's to attract more customers by using this method for fast payouts. Once again this is a risk that we do not take with your money.

DigiWallet uses a third-party funds bank account which is managed through a seperate foundation, this keeps your money 100% safe.
We provide the services you need for your business while keeping your money 100% safe. DigiWallet has a license from De Nederlandsche Bank (DNB) for providing payment methods and is certified by Currence for providing iDEAL transactions.
DigiWallet is the quick start, one-stop-shop that provides payment methods for your website so you recieve your money securely. Including free webshop plugins, support & upgrades and free tools to make more money.
Development
Make anything payable with our versatile API.
Clear and understandable API documentation.
Easy to use for all coders out there. Even for less experienced programmers.
Our Plugins
Plugins for your shop or website. Cut, paste and sell.

Copy and Paste
Installable without programming knowledge. We explain every step.

Free plugins
Free usage and updates of the plugins.

All in one
All plugin support payments through iDEAL, Bancontact, Credit Cards, Paysafecard and Sofort Banking.