Easy Online Invoicing
Create invoices online on your desktop, tablet or mobile phone and track payments automatically.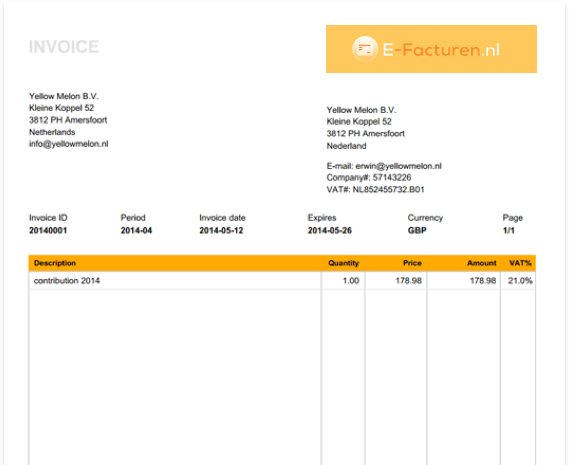 Payments
We all like getting paid on time. We can help you with that! We have DigiWallet integrated for direct payments. We offer BankWire, iDEAL and many more payment methods.

Easy input
We kept the input as simple as possible. You don't need to create products or customer records upfront. When you invoice these clients again, E-Facturen will recall their details.

Import excel
Create a lot of invoices in only few clicks. Drag an Excel sheet with a list of your customers into E-Facturen and for each line a new invoice is generated.

Mobile, Tablet and PC
You can use E-Facturen everywhere. The site is responsive and optimizes for mobile, tablet and desktop PC automatically.

Store where you wish
You can download the invoices as PDF, send them to your customer by e-mail or push them to your Dropbox. You can choose to store your files in the way that suits you.

Free and safe
Your valuable details are in a safe place with E-Facturen as we know how important security is. We also promise you can always download your data any time, for free.