Request for Payment
Payment of invoices and bills can be a lot simpler. With an E-Acceptgiro you can send your customers a payment link and your customer can fulfill the payment through its trusted secure banking payment environment. (iDEAL, Mister Cash etc). It is fast, simple and secure.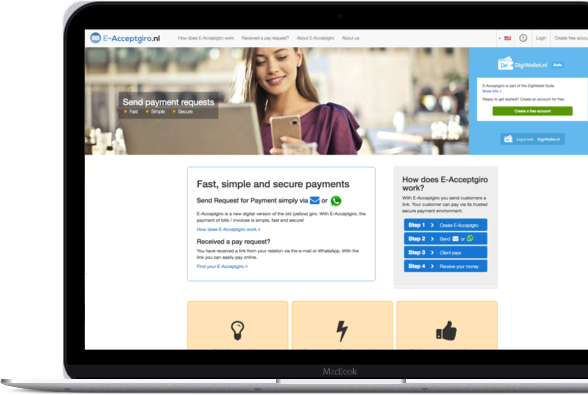 Save time and money
Using E-Acceptgiro saves you a great deal of time and money because you no longer have to send invoices or reminders by post. You also prevent the chance of typing or postal errors.

Done in 1 minute
Creating E-Acceptgiro's yourself is very simple and does not require any technical knowledge. All you need is a free account. After logging in to your account, you can generate a link or enter it manually.

What does it cost?
The use of e-Acceptgiro is free. You only have to pay for the transaction costs which are connected to the paymethod.

The future is today
Every year millions of invoices / Acceptgiro's are still sent to customers for a (periodic) payment. However, it is much more convenient, cost effective and environmentally friendly to use E-Acceptgiro to seamlessly request payment and link to online payment environments.
How does it work?
You can easily create a E-Acceptgiro's.
Enter the amount and reference, and choose if you want to send the link via Email or Whatsapp to your customer.
When your customer chooses the link, they will be redirected to their trusted and secured payment environment.